Community Development in Pursat province
Two years (2005-2007) project in Phnom Kravanh district was supported by Food Security Initiative Fund (FSIF/CIDA) for 16 villages. The overall objectives of the project are to increase income and food production of farmers and to improve the environment through (i) increase household food security and income through livestock activities in mixed integrated farming systems, (ii) optimize the utilization of local farm resources including recycling of livestock waste to improve agricultural productivity, (iii) improve villagers in ecological management of local resources through adult training methodologies and (iv) strengthen rural institutions through the establishment of Farmer Association allowing them to manage resources in a sustainable manner. Eight villages were selected for the first year with the participation of 234 families (57% women) participated in the project. Forty families received heifers (1 each), 40 families received piglets (2 each), 113 families received chickens (5 hens and 1 cock each), 44 families received fingerlings (60-100 fingerlings each) and every direct beneficiary received a variety of vegetable seeds.
Eight new villages of the same target communes already started with the session of the 4FS and inputs are in the process of distribution to the community members.
Passing on the Gift (POG)
Among heifers distributed, 10% was already passed off sprints to new members and other 40% cows are pregnant. Sixteen percent of sows are pregnant and 15% was sold to the market as finishing pigs. Forty eight percent produced 1008 chicks and 30.4% are presently laying and incubating. A total of 4400 fingerlings distributed to 44 families in 8 communities and so far 25% of these fishponds produced fingerlings for selling and pass on to new members.
| | |
| --- | --- |
| Community leader and original family passed on chickens to new members in Prek II, Pursat | New member in Prek II, Pursat received passed on fishes from original family. |
Saving
In the saving groups, each community member has 500-1000 riel and until now the first 8 communities have saved a total of 1468800 riel. The interest rate is 2% per month.
Farmer field school
Approximately 25-30 participants attended to the regular biweekly session of 4FS. The topics for 26 bi-week sessions were related to cattle, pigs, chickens and fish and family vegetable production and management. In general after post-test participants improved their knowledge by 20% compared with pre-test (Figure 5) although a significant improvement is observed for participants from Kandal and Prek II communities.
| | |
| --- | --- |
| Farmer Field School in Prek III village | Vegetable Field Day in Prek II with participation of local authority |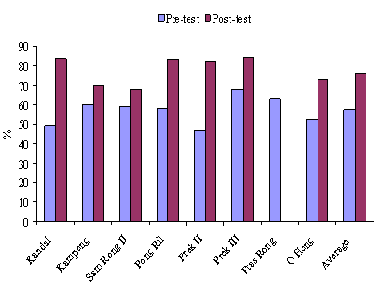 Figure 5: Results of the pre and post tests.
Cross visit
Several cross visits organized for the project participants to other places and cross-visits from other Non-governmental Organizations such as Farmer Livelihood Development (FLD), Khmer Women Organization, Srer Khmer, and Association of Saving Poor Families for Development (ASPFD) to CelAgrid target site in Phnom Kravanh were organized to share experience and knowledge.
| | |
| --- | --- |
| Cross visit for farmers in O Heng village | Cross visit organized in Kampeng village to share experience on small scale aquaculture |