Community Development in Kandal province
In 2004, NZAid and Heifer Cambodia supported the projects in Kandal applying same model as described for Takeo. Two communities (Reay Dop and Teuk Nim) were established. A total of 40 families (17 for Reay Dop and 33 for Teuk Nim) participated in the project. Twenty three families (9 for Reay Dop and 14 for Teuk Nim) received the piglets (2 in each), biodigesters (1 in each) and all 40 families received vegetable seeds.
In 2005, CelAgrid implemented other two projects in 3 communities of which 39 families (14 in Prey Tatouch for CARF and 10 in Boeung Khyang and 15 in Chrey Royong) with the support from Cambodian Agriculture Research Fund (CARF) and MEKARN. They all; each received two piglets, a unit of biodigester and vegetable seeds.
Passing on the Gift
Same model as in Takeo, those who have received inputs share their resources with new members. Each piglet received by pass on 1 piglet to other new member but to strengthen the community organization, another piglet is given to their organization to be used its operation. Among the 79 original community members, 24 have been able to pass piglets to other 24 new members (Figure 3).
Figure 3: No. of families received pigs.
Saving
So far Reay Dop and Teuk Nim communities have saved 1050500 riel in the saving box and similar saving scheme as applied in Takeo has also been used in Kandal province.
Farmer field school
As they are living closer to Phnom Penh , their knowledge is much higher compare with community members in Takeo (results from pre-test). Topics of the 4FS were similar to those in Takeo province. The results of the pre and post test are shown in Figure 4.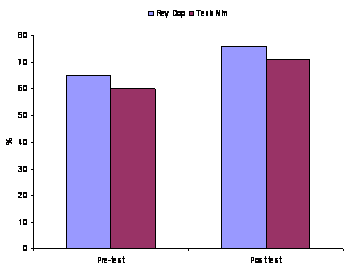 Figure 4: Results of pre and post test.
Cross visits
At the start of implementing projects a study visits were organized to CelAgrid so that they can observe the farming activities. These visits encouraged farmers to quite learn and apply at their home. In addition they can also give feedback to CelAgrid staff to develop more appropriate technologies according to their needs.
While the projects went on, courses were organized for community leaders in term of inputs management, bookkeeping and Heifer Cornerstones Model. Fifteen community leaders and pilot farmer were invited to attend the course. The aims of the course were to (i) strengthen community leader, (ii) abilities to solve problems toward self-reliance within community and (iii) deepen their understanding on cornerstone model of Heifer International - Cambodia .